When Briana Tyler went to work on Tuesday night, what she thought would be a quiet shift quickly ended in bloodshed.
Interested in
Virginia Walmart Shooting?
Add Virginia Walmart Shooting as an interest to stay up to date on the latest Virginia Walmart Shooting news, video, and analysis from ABC News.
Tyler, an employee at the Walmart on Sam's Circle in Chesapeake, Virginia, said she and her coworkers were gathered in the break room at the start of their shifts at around 10 p.m. local time, discussing which section of the store each employee would be working in that night.
"As soon as my team said, 'All right, we have a light night tonight,' I looked up and my manager just opened the door and he just opened fire," Tyler recalled during an interview with ABC News on Wednesday. "He wasn't aiming at anybody specifically. He just literally started shooting throughout the entire break room and I watched multiple people just drop down to the floor, whether they were trying to duck for cover or they were hit."
Tyler said the alleged gunman -- identified by authorities as 31-year-old Andre Bing of Chesapeake -- looked "directly at" her and fired but "luckily missed" her head by "an inch or two."
"He didn't say a word, he didn't say anything at all," she noted. "I literally hadn't even seen him before that point. He just came around the corner and started shooting. The first person that was in his eyesight, he shot him down and the next thing you know, he just started rigging throughout the entire break room but he did not say a word."
At least six people were killed and four others were injured before the suspect -- wielding a pistol -- shot himself dead, according to the Chesapeake Police Department.
Police received the initial 911 call at 10:12 p.m. local time and officers responded to the scene within two minutes. They entered the Walmart at 10:16 p.m. local time, where they found multiple gunshot victims as well as the suspect dead from an apparent self-inflicted gunshot wound. The scene was declared safe by 11:20 p.m. local time, according to police.
Law enforcement sources told ABC News that authorities are investigating whether the shooting was a case of workplace violence.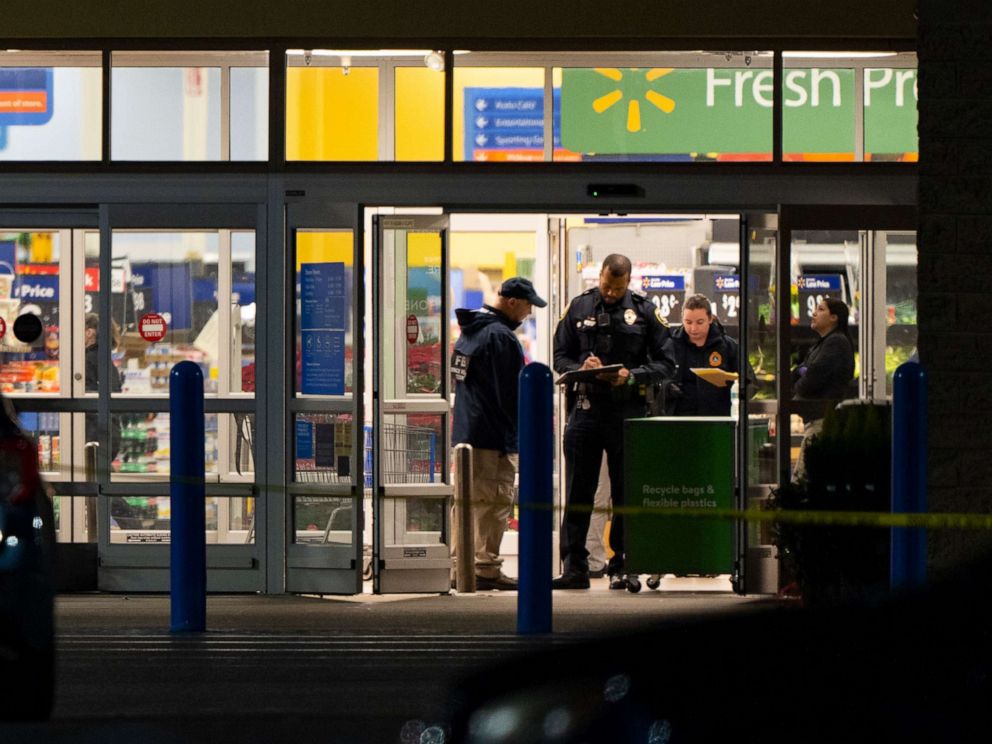 Tyler said she had heard from other employees when she first started working at the Walmart about two months ago that Bing "was the manager to look out for because there was always something going on with him, just having an issue with someone."
"But I never expected it to get to this level of an issue, like I don't know of anything that had happened recently," she told ABC News. "He was the manager that everybody, you know, had something to say about. [But] I would've never thought he would do something like this."
Jessie Wilczewski had only been working at the store for five days when the deadly shooting unfolded. She said she plays the events of that night over and over in her mind.
"When I sleep, like, it still plays, bits and pieces, so I can't run away from it," Wilczewski tearfully told ABC News during an interview on Thursday. "I had to sit there on the floor and, in front of me, watch my coworker have her last moments."
Wilczewski, a mother to a 15-month-old boy, said Bing spared her life. She said she believes the attack was targeted and that she was let go because she had not worked there long.
"I looked at him after I got up from under the table and he saw it was me," she recalled. "He had the gun pointed at me and he went like this and put the gun up. And then he just looked at me and said, 'Jessie go home.'"
Another employee, Kevin Harper, said he was sitting in the break room after arriving early for his Tuesday night shift. But something didn't feel right -- so he left. Moments later, he said he heard around three or four muffled gunshots and ran into a clothes hanger to hide.
"I couldn't tell you how long I hid in there," Harper told ABC News during an interview on Wednesday. "Time just stopped at that moment."
Harper recalled running as fast as he could out of the store's employee entrance. On his way out, he said he saw two people on the floor, including a woman covered in blood.
"I'm just praying for my Walmart family," he added.
According to Harper, Bing was known for nitpicking the work of certain employees. Harper said he never had any problems with Bing but that others did and complained about him.
Chesapeake resident Terri Brown said she was shopping at the Walmart earlier that night before gunshots rang out.
"There are no words," Brown told Hampton ABC affiliate WVEC on Tuesday night. "To see this unfold, to be a part of this, to know that this crime occurred so close to me and I was literally in that store. It's terrifying."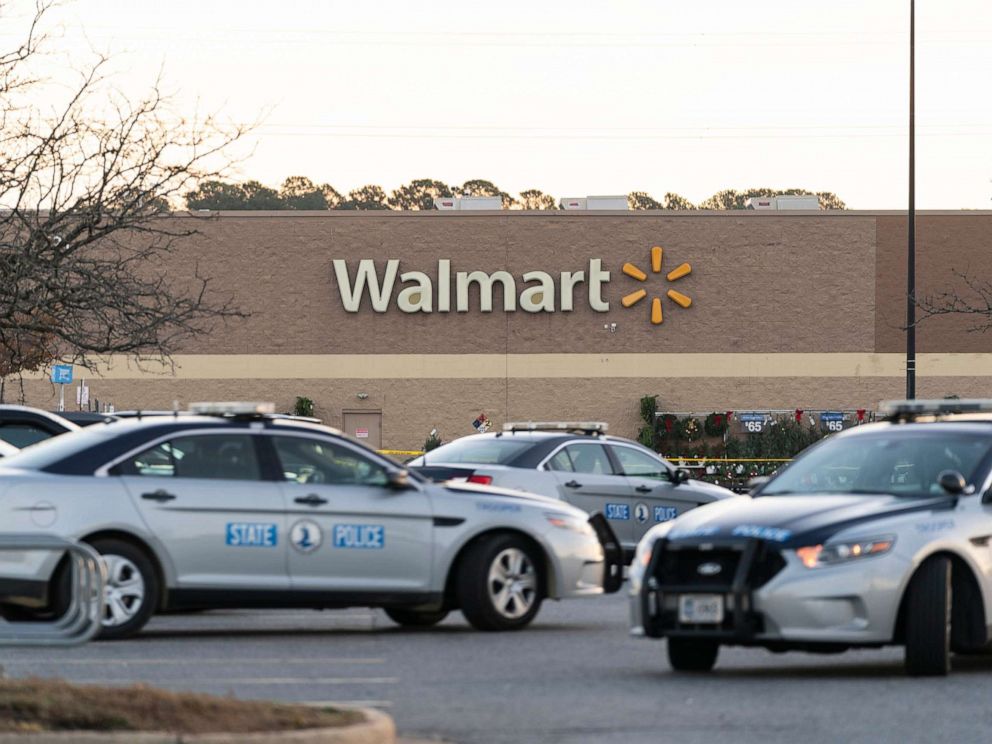 A Walmart spokesperson confirmed in a statement on Wednesday that Bing worked at the store in Chesapeake as an overnight team lead and had been an employee since 2010.
"We are shocked at this tragic event," the spokesperson added. "We're praying for those impacted, the community and our associates. We're working closely with law enforcement, and we are focused on supporting our associates."
During a press conference on Wednesday morning, Chesapeake Police Chief Mark Solesky described the shooting as "senseless violence."
"This investigation is still ongoing, so there's no clear motive at this time," Solesky told reporters. "We'll be processing that scene for days."
Chesapeake Mayor Rick West, who tested positive for COVID-19 and could not attend Wednesday's press conference, issued a statement saying he was "devastated by the senseless act of violence that took place late last night in our city."
"My prayers are with all those affected -- the victims, their family, their friends and their coworkers," West said. "I am grateful for the quick actions taken by our first responders who rushed to the scene. Chesapeake is a tight-knit community and we are all shaken by this news. Together, we will support each other throughout this time. Please keep us in your prayers."
Virginia Gov. Glenn Youngkin said in a statement early Wednesday that he remains "in contact with law enforcement officials" and has "made available any resources as this investigation moves forward."
"Our hearts break with the community of Chesapeake this morning," Youngkin added. "Heinous acts of violence have no place in our communities."
ABC News' Luke Barr, Ike Ejiochi, Arthur Jones II, Aaron Katersky, Josh Margolin, Lauren Minore, Jay O'Brien, Beatrice Peterson and Pierre Thomas contributed to this report.