A Democratic lawmaker who was screaming about Republicans' approach to gun violence just off the House floor on Wednesday soon got into a tense altercation with one of his conservative colleagues.
Interested in
Gun Violence?
Add Gun Violence as an interest to stay up to date on the latest Gun Violence news, video, and analysis from ABC News.
An animated Rep. Jamaal Bowman, D-N.Y., a former principal, came off the floor and began telling reporters to continue to press GOP members on their views on the issue of guns and shootings.
"Please ask them. Don't let them off the hook," Bowman said.
"Ask them about gun violence. What are they doing about it? Nothing!" he continued to yell as colleagues exited the floor.
"They don't have the courage," he insisted. "They're cowards."
Rep. Bowman came off the House floor, telling reporters to continue to ask Republicans about gun violence.

"Ask them if they're gonna go to a 9 year old's funeral. Ask them. Don't ask them about anything else." pic.twitter.com/xKRlSA0d6J

— Lalee Ibssa (@LaleeIbssa) March 29, 2023
Republicans have avoided or dismissed questions about new restrictions on assault weapons like those used in the Nashville, Tennessee, school shooting this week.
They have instead advocated for ramping up school security and more and more have cited addressing "mental health" as the better solution, given longstanding reluctance to restrict gun ownership, saying it's unconstitutional.
"The first thing in any kind of tragedy is I pray. I pray for the victims. I pray for the families. I get really angry when people try to politicize it for their own personal agenda, especially when we don't even know the facts," House Majority Leader Steve Scalise said Tuesday.
Bowman, on Wednesday, forcefully rebuked that.
"They have control of the House! The American people need to know that they don't have the courage to do anything to save the lives of children," he said.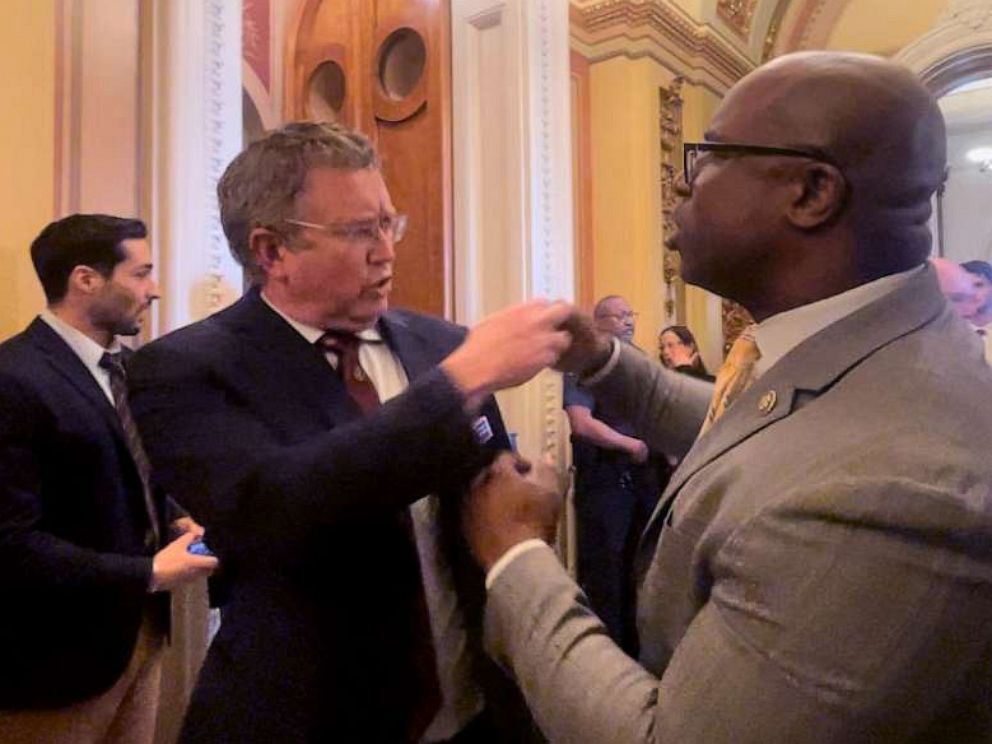 Though most members just walked past Bowman as he was screaming for about five minutes -- aside from the occasional applause from Democratic members -- Rep. Thomas Massie, a Republican from Kentucky, decided to engage.
"What are you talking about?" he asked.
"I'm talking about gun violence," Bowman responded.
"You know there's never been a school shooting in a school that allows teachers to carry," Massie tried to argue.
"Carry guns! You think-- More guns lead to more death!" Bowman retorted.
Massie told Bowman multiple times to calm down, prompting Bowman to exclaim: "Calm down? Children are dying! Nine-year-old children!" and "I was screaming before you came and interrupted me."
After Bowman left the Capitol, still yelling, Massie told reporters: "Next week, I'm reintroducing a repeal of the federal Gun-Free School Zones Act. It's the deadliest bill that's ever been passed."
Then he left as well.
ABC News' Libby Cathey contributed to this report.